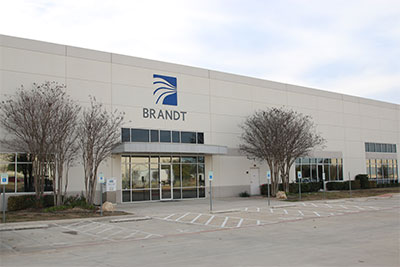 Employees' Child Participates in Local Event
Brandt offers many Special Olympics of Texas volunteer opportunities throughout the year. Our employees often refer to the experience as rewarding and inspiring.
Our Training Manager, Dawn Rogers, often volunteers with Brandt at the Special Olympics competition, but she recently experienced the competitions in a different way.
Her seventeen-year-old son, Joe, has special needs. He is a sophomore at Marcus High School in Flower Mound, Texas, and recently joined the Spirit of Flower Mound Area 10 Special Olympics team.
"When Joe was born, he was what is referred to in our special community as neuro-typical, which means he met all of the developmental milestones and didn't exhibit any disabilities at birth," Dawn said.
When Joe was 10 months old, he contracted a form of bacterial meningitis. Dawn explained the infection caused brain impairment, hearing loss, and an alphabet soup of diagnoses. As Joe grew up, he watched his sisters participate in sports, and he began asking Dawn why he could not play too.
"It broke my heart," Dawn said. "I wasn't familiar with all of the amazing services available to kids like Joe, until we moved from East Texas to the Dallas area in 2011."
Sporting opportunities expanded for Joe when he moved to the Dallas area. He played basketball with the Miracle League for a few years until they found the Special Olympics in 2016.
"Finding his team and watching him participate in the Area 10 games was an absolute blast," Dawn said. "During the Area 10 basketball games, a large group of volunteers showed up and cheered on all of the teams."
Dawn said experiencing the Special Olympics from the family perspective and watching the huge impact volunteers made was more rewarding than she could have imagined.
"I want the volunteers to know how much my heart was filled seeing them cheer on our team. Being able to see my son's face light up when a crowd of people was cheering him on, absolutely priceless."